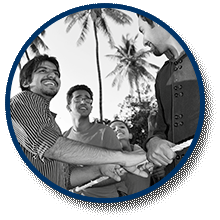 The TWL Circle of Leaders is a platform of workshop leaders. Some of us very experienced, others a little and some not all. What ever the level is, here we do exchange our experience and learn from each other to level up our leadership qualities. Thereby theory and practices of daily life in workshop and training won't be neglected. Technical tips on one hand and counseling on the other are the range offered.
Each week a new blog post around the subject of workshops and trainings will be published. Each of them will enrich your personal toolbox as teacher and trainer. Of course you could also use the search function or browse by categories according to your needs and interest. And your contributions are welcomed absolutely. Remember: by teaching we learn the most.
As member of the TWL Circle of Leaders you have free access to
cheat sheets

additional resources

new freebies

free exchange with other workshop leaders

networking with facilitators, trainers, coaches from around the world
For the time being TWL Circle of Leaders Membership is for free. In case this changes one day you will be definitely informed about it with the option to leave or to join a paid membership. So, for now you don't have to worry: everything is for free and no additional charges occur.